Nordic walking, Food and Wellness
Available Ryanair flights to Rimini airport Arrival 9.50 ľ 13.00 Depature 16.20 ľ 17.35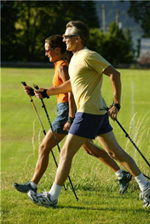 Nordic Walking is a new method of sports thatthat is emerging all over the world, easy and fun way to enjoy a healthy and active lifestyle.
It's good for the heart and to circulation, strengthens arms and shoulders, improves posture and tones buttocks, back and abdominals.
This is a sport for all and all year round, offering fans of outdoor sports, an alternative way to keep fit and healthy.
It consists of walking with poles, where the stick is used to push and not as a support.
The strength of Nordic Walking is that it can be practiced anywhere, on mountain trails in the city, on the beach, in parks ... Walking is the natural movement par excellence, with little time you can not do much, just go out and leave immediately with his whole body in motion!

The OFFER below will allow you to enjoy a wonderful sport, combined with the discovery of the hinterland and the gastronomy of Romagna. The routes will be simple and suitable for all, enhanced by beautiful landscapes, tasting of typical products, visits to medieval villages ... concluding with relaxation in the Spa !!


Thursday
Transfer from Rimini airport by shuttle bus. Accommodation in Hotel 3*** in RICCIONE. Welcome aperitif with light buffet at your arrival for a relaxing snack. Free afternoon to relax and shopping in the town center. Dinner at the hotel.

Friday
Breakfast at hotel. A half day-trip of NORDIC WALKING with "Italian Nordic Walking School TRAINERS" a route of 10 miles in the morning on the beach and stretching session. Return to hotel to relax. Free lunch.In the afternoon transfer by bus to S. Giovanni in Marignano to a wine cellar, visit of the production and Wine Tasting. Dinner to a typical restaurant or farmhouse with traditional menu.

Saturday
Breakfast at hotel. A whole-day-trip with "Italian Nordic Walking School TRAINERS" on the hills among the Sasso Simone natural park ů about 8 miles of adventure paths !!
Packet lunch from the hotel to have all together in the park. In the afternoon we come back to "Riccione Nordic Village" to have a snack together and we continue the road in the Conca valley next to the Conca river for a short walk of about 5 miles ů Return to hotel for Dinner with seafood menu of Adriatic coast !!!

Sunday
Breakfast at hotel. Relaxing morning into a SPA center. Finnish sauna, Turkish steam bath, Ice waterfall, Emotional showers and the big indoor Jacuzzi, which offers various vascular itineraries, color therapy and whirlpools that can enjoyed from comfortable and elegant lounge chairs. Free lunch. In the early afternoon transfer to Rimini Airport.


From 10 to 15 person * Special price ú 440,00
Click here for more informations and details!